Don't panic: business on "remote work" in the era of coronavirus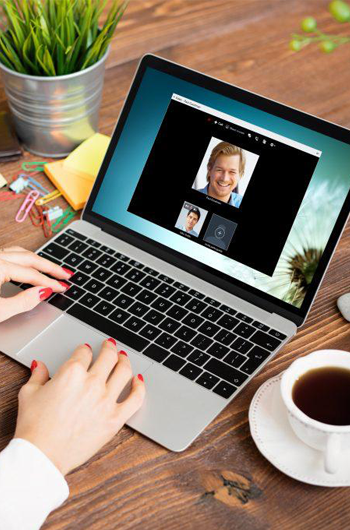 The coronavirus pandemic in recent days has not only become the main news agenda but has also drastically changed the habitual rhythm of life of millions of people around the world. Companies massively transfer employees to "remote", planned events are cancelled and social activity goes deeper and deeper online. Perhaps, digital has never been so new real. Adapting to the rapidly changing rules of the game is not an easy task. But it's doable. Specialists of 4D Communication Agency know how to establish communication with colleagues and partners in isolation, which services to use for this purpose and issues to consider when switching to digital communication and online conferences.

Online-events

Choosing the online format for corporate meetings and large conferences has many advantages. The geographical issue disappears, and it becomes absolutely unimportant in which cities all the participants of such event will be located. This allows you to save on business trips for employees and speakers, and involves new partners who previously could not get to the conference venue due to the lack of time, high cost or a significant distance. "Online" greatly facilitates the format of the event: so all participants can be on time at their computers, and there is no need to follow a strict dress code, while not suffering the main thing-content. Due to the using of audio and video modes, your audience will be able to perfectly assimilate the broadcast material. Finally, now many platforms allow you to automatically save the desired content, which saves you from the hassle of transmitting information to everyone after the fact.

Undoubtedly, the above advantages should work for you but only if you have the competent approach to organizing and conducting online event. The preparation process can take more time and effort than it seems at first glance. Here are our recommendations about how to make this event as productive as possible.

Preparation stage

Platform selection - analyze the available platforms and packages that offer different services. Check how many users and the duration of the conference they are designed for, how much information can be uploaded, whether participants will need to install additional programs and plug-ins or there is an option to record video and audio, as well as other technical features.

Date and time selection – don't forget to let your audience know in advance when the conference will take place. When choosing, keep in mind the time zones – after all, participants may include people not only from other cities, but also from other countries.

Preparation of materials - prepare the necessary materials, illustrations, tables, documents, presentations. In fact, nothing changes here compared to the usual conferences, but again, you should take into account the technical characteristics of the platform.

Check that the platform is ready - test the sound and video quality on the selected platform in advance. This is the absolute must for any online conference.

Check your readiness – it's incredible but sometimes even such a small thing as a failed laptop or lack of a charger can lead to disruption of your online event. The possibility of such force majeure should be excluded.

During online event

1. At the beginning of the videoconference make sure that participants do not have problems with the audio and video stream. Verification will help you to avoid technical overlaps, and your audience will not have to be distracted during the event.
2. Start with a positive note! A succinct opening speech will help you to determine the expectations of the participants from the conference, involve them into the process and set them up in the right way. This is especially important now, when due to the off-scale level of stress and information noise, it is difficult for many people to distract themselves from depressing thoughts and switch to the work wave.
3. Track audience activity. We would recommend that two moderators to be involved in the online conference. One will be responsible for technical aspects, while the other will be responsible for monitoring participants' engagement and questions received from them.
4. Remember the importance of the communication. After each block of the information, be sure to check with the guests whether everything is clear to them and answer any questions. Participants with the most interesting questions will not be superfluous to connect to the broadcast and let them speak out. Encourage guests to share their thoughts, address participants by name, and allow you to be interrupted. In short, do everything to ensure that the conference remains the conference, and not turn into the online lecture.
5. Don't be afraid to share your personal experience! This can be useful advice for all conference formats. After all, nothing engages the audience as much as the speaker's story about their own ups and downs, mistakes and trials.
6. Explain to your guests how and where they can access the necessary content after the conference ends. Whether it is a regular e-mail newsletter, cloud service or downloading directly from the conference platform.

Video conferencing and online meeting platforms

Live broadcasts in YouTubeLive are the most obvious and simple tool. It offers easy access and various useful features, such as chat and statistics section. In addition, using YouTube, you can easily share your broadcast with users in other social networks. It is only important to note that you need to submit an application for the broadcast. It will take about a day to review it.

Zoom is one of the modern leaders in the field of conferencing. Suitable for video conferences, online meetings, and group chats. The maximum number of participants in the free version is 50 people. The main advantage of Zoom is its speed and communication stability – it can run on less RAM. Supports streaming from mobile devices, sharing documents, audio files, and images, as well as working with Google Drive, Dropbox, and Box.

WebEx is one of the most popular video communication platforms in the world, owned by Cisco. It is suitable for organizing large-scale online conferences, as well as for holding meetings and trainings within the company. Pays great attention to cybersecurity. By the way, Cisco representatives have already announced a record growth in the number of users in the context of the pandemic and their readiness to maintain stable operation of their services. However, stability, of course, will have to pay. Prices for WebEx services may seem "biting", especially for small businesses.

Webinar.ru - platform with a wide range of functions that allows you to hold conferences of any scale up to 10 thousand people. Depending on the purpose of the event, whether it is training, marketing or business, you can use different packages of services. Supports various types of documents, the ability to demonstrate the desktop, an interactive drawing board during the report, and a convenient chat with moderation of questions. There is round-the-clock support. You can also use the help in the preparation of events, including automatic notification to participants, monitoring of participants ' behavior during the conference, connection, and analysis of Google Analytics and Yandex.Metrics.

ClickMeeting is a web browser-based platform. There are mobile apps for Android and iOS that allow you to hold conferences from mobile devices. There are functions for working with documents, using presentations, an interactive whiteboard, online surveys, and a chat with a translation function in 52 languages. You can create an entry from the conference and then post it on your website, as well as use statistics for the event and participants.

MegaFon Webinar is a platform for holding online conferences, presentations and trainings from one of the leaders of the Russian mobile communications market. Up to 1000 users can participate in events simultaneously. Useful features include a virtual "drawing board", a function for polls and voting, file sharing, and a desktop demonstration function. You can also record an event in high quality and save it for later use. During the pandemic, MegaFon provided the company with free use of certain packages for webinars and online conferences.

Proficonf is a relatively young but well-established video conferencing service. The free version allows you to hold conferences lasting up to 45 minutes and with up to 25 participants. The paid version supports up to 250 participants. The advantages include a simple and user-friendly interface and HD video quality. In addition, the platform runs on a browser-based basis, without requiring participants to install any additional plug-ins.

TrueConf is a platform from Russian developers that is leading in the video conferencing market in Eastern Europe. It is suitable not only for conferences, but also for working in corporate networks with support for UltraHD video formats. TrueConf software is compatible with popular Western services, such as meetings, instant messaging, audio, and allows you to connect to conferences held on them from the "native" client application.

GoToMeeting is a service for holding online meetings and conferences with an unlimited number of events at a fixed rate. Supports demonstration of presentations, collaboration on documents, sending out invitations, as well as recording and playing the event. Minus-the lack of Russian-language support.

Whereby is a simple and intuitive service for organizing small video meetings. It does not require pre – registration of participants-they just need to click on the link sent. The paid version supports up to 50 participants, recording and uploading events.

Jitsi Meet is another simple solution when you need to hold an online meeting "right now", but you don't have time to prepare something larger. It works on different devices and with any browser, without requiring any additional registration or downloading. The number of participants in the chat is unlimited. One of the most useful features is the desktop display function, working with a shared document, and the ability to broadcast your chat on YouTube. One of the disadvantages is the lack of recording audio and video of the meeting.

Seven services that will be useful on remote work


Hangouts Meet is a popular messaging and online conference service. It is possible to organize group video chats for up to 100 people. Chat history is synced between users ' devices. By the way, during the coronavirus pandemic, Google made free access to the hangouts premium account features.

Microsoft Teams is an enterprise service that includes chat, notes, meetings, and a calendar. Office 365 and corporate subscription all its features are available at no extra cost. There is a function for holding corporate seminars with up to 5,000 people and live broadcasts of meetings.

Skype is a classic of the genre. The most obvious option for video communication within a small company. The free version supports video calls with up to 50 people and screen sharing.

Slack is a corporate messenger with channels for personal and business correspondence. Integration with dozens of third-party services, including Google Hangouts, Google Drive, Dropbox, Twitter, Trello, and others. First of all, it is good because employees do not have any third-party channels and chats except for workers. Therefore, productivity will be significantly higher than when using regular messengers.

Trello is a service for organizing remote work in a team. It is convenient for creating tasks that are placed as cards on boards organized by topic.

Discord is a voice messenger with text chat. It was originally developed for gamers, but it will also be useful for solving business problems.

Glip is a tool for managing team tasks. It combines chat, file sharing, calendars and schedules.

No one has yet decided how long the coronavirus pandemic will last. But one thing is clear today – the world is changing rapidly, and it is unlikely to become the same. Therefore, business should not perceive the new realities as something temporary, but should make the most of them for their business, without sliding into chaos and not giving in to panic.