Corporate at the monitor: how to prevent the pandemic from disrupting your event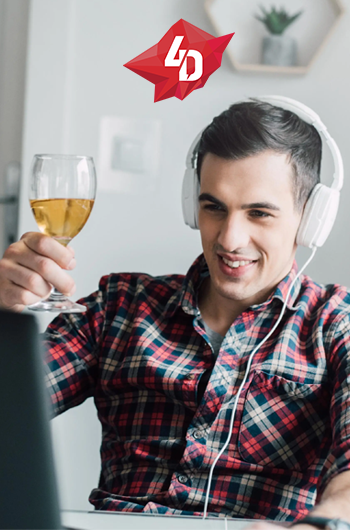 We will definitely remember the beginning of 2020 for the rest of our lives: the world is literally changing before our eyes. Because of the coronavirus pandemic, millions of companies around the world are moving employees to remote work, and business and communications are rapidly moving online. The event industry is also undergoing major changes. Today we can no longer hold events in their traditional form, and when we can – no one can say. Life does not stand still and we all need to adapt to the new conditions of the game. Specialists of the communication Agency 4D tell you how to move your event from offline (infected world) to online (real).
Corporate events

In the context of a pandemic, a significant number of people experience tremendous stress. Closed borders, disrupted vacations and plans, restricted freedom of movement in the home city, and a constant information storm. A corporate event will help your employees to distract themselves, relieve anxiety, see each other, unite and ultimately increase their productivity. We are sure that the cost of such an event is necessary and will benefit your company. Here are some of the options for remote corporate meetings.

Party at the monitor

How to start a party? Of course, with an original and memorable invitation. We can deliver a WELCOME-PACK with souvenirs to your employee's homes. This can be a t-shirt or sweatshirt in corporate colors, so that even sitting at home, a person feels like a part of the team. Or a blanket with soft Slippers, playing the theme of home self-isolation. As an option, the FOOD-PACK is a branded box with delicacies and snacks, festive drinks, and original disposable devices. Treats at corporate parties are loved by everyone and your employees will definitely appreciate such a surprise.

A personalized invitation with detailed instructions on how to take part in the corporate event is delivered along with the box: which online platform will be used, which link can be used to join the event, and whether any applications will need to be installed.

Further events are limited only by the scope of imagination and budget. This can be a party with listening to music from live performers or DJ sets accompanied by a host, held in the format of a corporate radio station. You can also add video content with the broadcast of manager's addresses or pre-recorded wishes on specified topics, use motivational videos or just pleasant memories. Guests will be able to communicate in a shared video chat and have the opportunity to join groups of interests in special online rooms, in short, behave like at a familiar corporate event. An interesting effect will give switching backgrounds for the people in the frame. With this chip, you can travel to different places: from Paris and the beaches of Bali to the surface of Mars. Since there is no real possibility to fly anywhere, no one can prohibit us from moving virtually!

Corporate online bar

This is one of the most recent trends in spring 2020 and at the same time a budget alternative to a large-scale online corporate event. In different countries, isolated people at home have started using online bars with video communication for communication and new acquaintances. Alcohol, as you know, does not cure and does not solve problems, but it helps to virtually relax with colleagues and friends, discussing business in an informal setting. Our team will help you choose a convenient online platform, as well as organize the delivery of drinks to employees.

What if I want something unusual?

Easy! Organize a corporate viewing of a movie or performance online, followed by discussion of the picture with colleagues in a video chat. You can combine it with any of the elements already described: an appeal from the head or with home delivery of branded buckets of popcorn, or maybe a bottle of champagne and a chocolate Eclair for everyone.

Corporate online game tournament

For example, for DOTA. This is a team tactical and strategic game with role-playing elements in which each participant controls their own character. It will make your employees feel like superheroes and improve their teamwork skills. Are there any video game fans among you? An alternative is corporate poker or chess competitions.

Corporate online quest

Employees enter a shared online room and are divided into teams, performing tasks pre-programmed in the quest interface or solving tasks in real time by communicating with the host. Communication is made via video or audio channels. You can also conduct a quest at the intersection of online and offline formats. This means that there is a team of players or actors in offline mode, they are controlled by audio-visual equipment located at their computers by the participants of the event.

Corporate TV

If your company's life is full of information, and employees work remotely, then this format can be used to maintain the information field both inside the team and outside it. Videos taken remotely or at the company's facilities will tell you about important events in the life of your business and new development vectors in such a difficult time, as well as current trends in the industry. Content can be distributed to employees or business partners. The organization of the online show "Good evening" will help to make the format more entertaining. This show uses videos prepared by the director, or filmed by employees themselves remotely under the guidance of our team.

Online conference

The company planned to hold a conference for distributors, an annual meeting of dealers or other business event focused on your customers and partners . Don't let the coronavirus ruin these plans! Our team will help you move your event online.

Participants of the conference will receive an electronic invitation or "welcome pack" with a traditional printed or digital invitation, your souvenir products, as well as detailed instructions for registering for this event, with the date and clear timing of broadcasts and all important details. After completion, all participants will be able to use online access to video materials, speakers ' reports and other useful information. Online conferences have a number of advantages over the traditional format. Read more about them here

Online presentations

You need to hold a presentation of a new product, product or service, but you do not know how to gather guests due to numerous prohibitions? Our team will be happy to hold an event in the format of live presentation or online launch.

You can send invitations to participants in the form of an email with graphic elements or a video message. An alternative is to deliver a WELCOME-PACK or FOOD-PACK to guests, as mentioned above. The invitees will get access to participate in the presentation using the link.

The presentation itself is carried out in real time or recorded in advance. You can shoot from any number of cameras or mobile devices, and the participant chooses the video stream and angle that interests them. A team of Directors, cameramen and editors will develop the plot of the video series. It can include messages from the company's management representatives, a speech by the presenter or an announcer accompanying materials during the presentation, elements of your corporate identity, infographics, and other elements of corporate identity.
When recording requests, you can use chroma key technology with the subsequent replacement of the frame background with any image (from red square to the sea coast) or with the subsequent transformation of the shooting object (for example, when a person in the frame turns into a super-hero).

An online presentation using VR technologies will look great. In this case, the shooting takes place using special cameras at 360 degrees, and the presentation guests watch the video in VR glasses, which are delivered to them personally. This will allow you to achieve the maximum impression and full effect of presence.

Master classes and training events

Any master class, seminar or lecture can also be easily organized online. Our specialists will provide information support for such an event, as well as all the technical component. If we are talking about a series of training events within the company, it may be worth going further and creating a real corporate online Institute. This is a hub for training, motivating and communicating employees which can be successfully used after the end of the pandemic.

P.S. put in a word about "merch"

The production of Souvenirs is easy to set up even in the current difficult conditions. Moreover, corporate "merch" at the time of coronavirus hysteria can acquire special significance for employees. Become a symbol of unity of isolated team members and a gesture of support from the company's management. Souvenirs can't just be branded in the corporate style of the company, but also provide a motivational call or even a joke on the same COVID-19 theme. We would also like to draw your attention to the creation of virtual merchandising! The possibilities are almost limitless, special masks, backgrounds and filters for social networks and messengers, all this creates a mood and strengthens the corporate identity.

As we can see, the pandemic is not a reason to refuse to hold events and conduct business in General. Moreover, the departure of the event sphere to online may become a trend in the near future, especially after the business community has become aware of new realities. We are ready to pick up this trend right now, then our team will be happy to help you with this.