PR support of the results of the Color Now 2021 presentation for Tikkurila
PR support of the results of the Color Now 2021 presentation for Tikkurila
Objective:
- Organize PR support for the results of the Color Now 2021 presentation for Tikkurila
- Develop and implement a special project in the media to attract the audience to the presentation
About project:
On November 13, 2020, an online presentation of the Сolor of the year 2021 was held according to the manufacturer of premium paint materials Tikkurila. The presentation brought together professionals in the field of architecture and design.
Color Now is the annual event of Tikkurila, presenting color collections and ideas for inspiration, which has been held since 2016.
The color of the year 2021 was a delicate light blue shade Cumulus (Y354) the name of which means "cumulus clouds". As cumulus clouds in nature indicate warm, clear weather, so the color cumulus fills with energy and gives strength for new achievements. The 2021 color collection giveshope and inspires people to contribute to creating a better future.
Communication Agency 4D implemented the works of PR support of the event in news agencies, business magazines, social media, trade publications with the theme of design and interior, as well as industry media with the subject of marketing.
Also to attract participants to watch the broadcast a special project was organized in conjunction with the AD architectural digest magazine in the timeline format.
It's about the annual Tikkurila tradition during which industry professionals (colorists, designers, architects and artists) choose a new color that meets the fashion mood.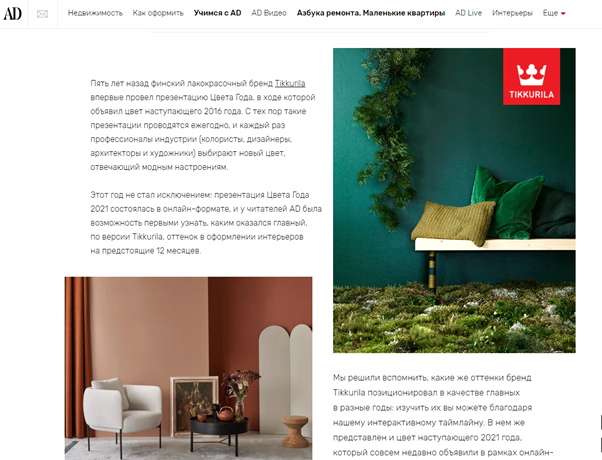 The creative feed was a timeline with animation elements that shows all the colors of the year presented by the company since 2016. By clicking on it the user can learn the description and meaning of a particular color.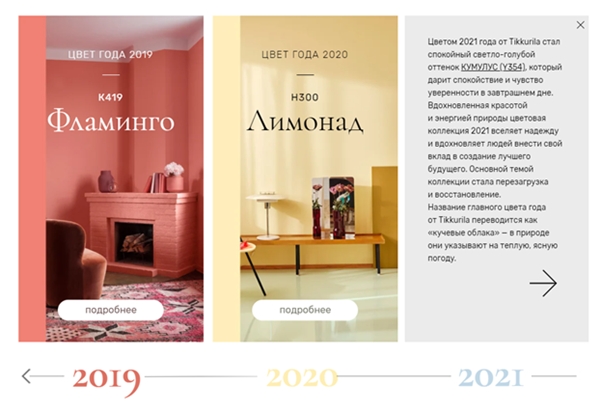 Results:
- A press release has been prepared - Tikkurila presents the Color of the Year 2021: Cumulus-a color that fills with the energy of creation and creativity;
- A special project was implemented in the timeline format in the industry media AD architectural digest;
- 43 publications were initiated in information agencies, business media, public media, industry media with the topic of design and interior design as well as marketing;
- Unique visitors – 8,098
- Article views – 12,578
- Clicks on the registration page from the article – 1 128
- Number of registered users – 1 196
- Number of video views in 3 weeks after the release of the special project – 3,987