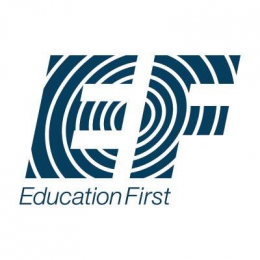 Education First
EF Education First (abbreviated as EF) is an international education company that specializes in language training, educational travel, academic degree programs and cultural exchange. The company was founded in 1965 by Bertil Hult, in the Swedish university town of Lund under the name Europeiska Ferieskolan (European Holiday School). The company is privately held by the Hult family and is headquartered in Lucerne, Switzerland.
With over 400 schools, EF is the largest privately held education provider in the world. Approximately 34,000 people are working at EF across its 16 subsidiaries and non-profit organizations represented in 50 countries worldwide.
EF was the official supplier of language training services to the 2008 Olympic games in Beijing,[6] and has been awarded the same role for the 2014 winter Olympics in Sochi. As many as 70,000 Olympic staff, volunteers and tourist-sector workers are being trained using EF's online English training platforms in preparation for the 2014 games.
EF English First is the English-language training (ELT) division of EF Education First. EF English First provides English training services for adults and children in China, Indonesia, and Russia.
Hult International Business School is affiliated with EF and is named for the founder, Bertil Hult. The business school offers degree programs, which include MBA, Executive MBA, Master and Bachelor degrees. The school is present in 7 locations around the world, this includes Boston, San Francisco, London, Dubai, Shanghai, New York, and São Paulo. Hult is the sponsor and organizer of the annual Hult Prize (formerly known as the Hult Global Case Challenge) which seeks to motivate young business school graduates to address social issues through entrepreneurship
Cultural Care Au Pair is a part of EF specialized in recruiting au pairs abroad and placing them in families in the United States. It is one of 14 designated sponsor organizations for the US J-1 au pair visa
EF Education First also publishes the EF English Proficiency Index (EF EPI), a ranking of countries by their English-language abilities. The latest report was released in November, 2013.